The aim of the North East Essex Badger Group is to promote the well-being of all badgers in this part of the county, and protect them from persecution or criminal acts
We do this by regularly monitoring all known badger setts in the area, by responding to calls to the Hotline and upholding the legislation of the Protection of Badgers Act 1992.
FIND OUT HOW TO BECOME A MEMBER
---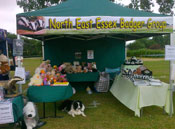 WE WILL BE TAKING OUR STALL TO VARIOUS EVENTS THROUGHOUT THE YEAR, PROMOTING OUR GROUP AND THE PLIGHT OF BADGERS BOTH LOCALLY AND NATIONALLY.

THESE EVENTS ALSO HELP TO RAISE MUCH NEEDED FUNDS AND BOOST MEMBERSHIP. COME AND MEET US AT THESE PLACES!!
Read more....

---
NATIONAL BADGER DAY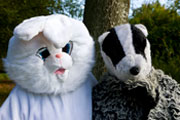 On Sunday 11 October, we celebrated the above with a fun-packed family event held at Glazenwood in Bradwell. 
Glazenwood is a private house set in seven acres of formal and informal gardens, comprising woods and parkland complete with an Island set in the middle of a lake filled with koi carp – a really beautiful setting.
The event was held from 12 noon until 4pm – a place where children could meet Mr Badger and some of his woodland friends and adults could enjoy a walk around the lovely gardens.
A "treasure" trail was set up around the parkland culminating on the Island where on presentation of a completed questionnaire there were prizes to be had.  
Also on the Island, children listened to story-telling in the Gazebo and many met Mr Badger, who was also interested in learning about himself and the adventures he sometimes got up to!
Many children had their faces painted, so we had "little badgers" roaming around, and there was also pottery classes where they could indulge their flair for making badger faces (to be fired later and posted out)
Various stalls were popular, i.e. Badger Goods and Tombola and it was good to see the Hedgehog Haven Rescue also present.
There was a coach house in the gardens, which lended itself beautifully to become a café, complete with tables and chairs where families could sit with refreshments.  There was also plenty of children's quizzes, colouring paper and crayons on the tables should little ones become restless.
All the money raised went to the Badger Trust.
Immense thanks must go to everyone who helped and gave so much of their time to make this afternoon a success.  The people who sweltered inside the animal outfits, manned the stalls, café and entrance gate or dashed around to help where-ever needed.
Most of all, our thanks must go to the owners of Glazenwood who so generously opened their gardens for us and also gave us their time and help.
There was a fabulous selection of cakes made by members to sell in the café – all of which were sold.  So many families came back for more as they just couldn't make their minds up!  How lovely was that?
……………….And to cap it all, the weather was good.
---

Badger Trust promotes the conservation and welfare of badgers and the protection of their setts and habitats for the public benefit. They are the leading voice for badgers and represent and support around 60 local voluntary badger groups.
BADGER TRUST BACKS MP'S CALL FOR PROOF THAT CULLS ARE WORKING AS TB RATES RISE IN CULL ZONES
Thursday December 17, 2015
The Badger Trust has backed calls from Parliament's Environment Food and Rural Affairs Select Committee for the government to provide clear evidence that the badger culls are working as the latest figures show TB in cattle is rising in and around the cull zones.
The move follows the release of new data from DEFRA for Somerset which shows that in the 12 months to September 2014 the level of new TB incidents in cattle was 297 but in the 12 months to September 2015, this jumped to 320 a 7.75% increase, despite badger culling having now taken place in Somerset for the last 3 years.
This is in stark contrast to claims made by NFU President Meurig Raymond in his speech at their annual conference in Birmingham in February that cattle TB incidents in the Somerset cull zone had decreased from 34% to 11% between 2013 and 2015, which he claimed could only be due to the culling of badgers. Read More......
GOVERNMENT REFUSES COST JUSTIFICATION!
A Freedom of Information Request (FoI) has revealed that the Government's promised financial reappraisal of its badger cull policy will not be made public.
In 2011 the Government stated in a policy paper , that it would revise its cost benefit analysis with data from the pilot badger culls undertaken in Somerset and Gloucestershire, before making any decision on rolling out the policy to new areas of the country.
The culls were extended to Dorset this year despite the county having one of the best TB reduction results in the whole South West but no information on whether the extension was justified has ever been published. Read More...
---